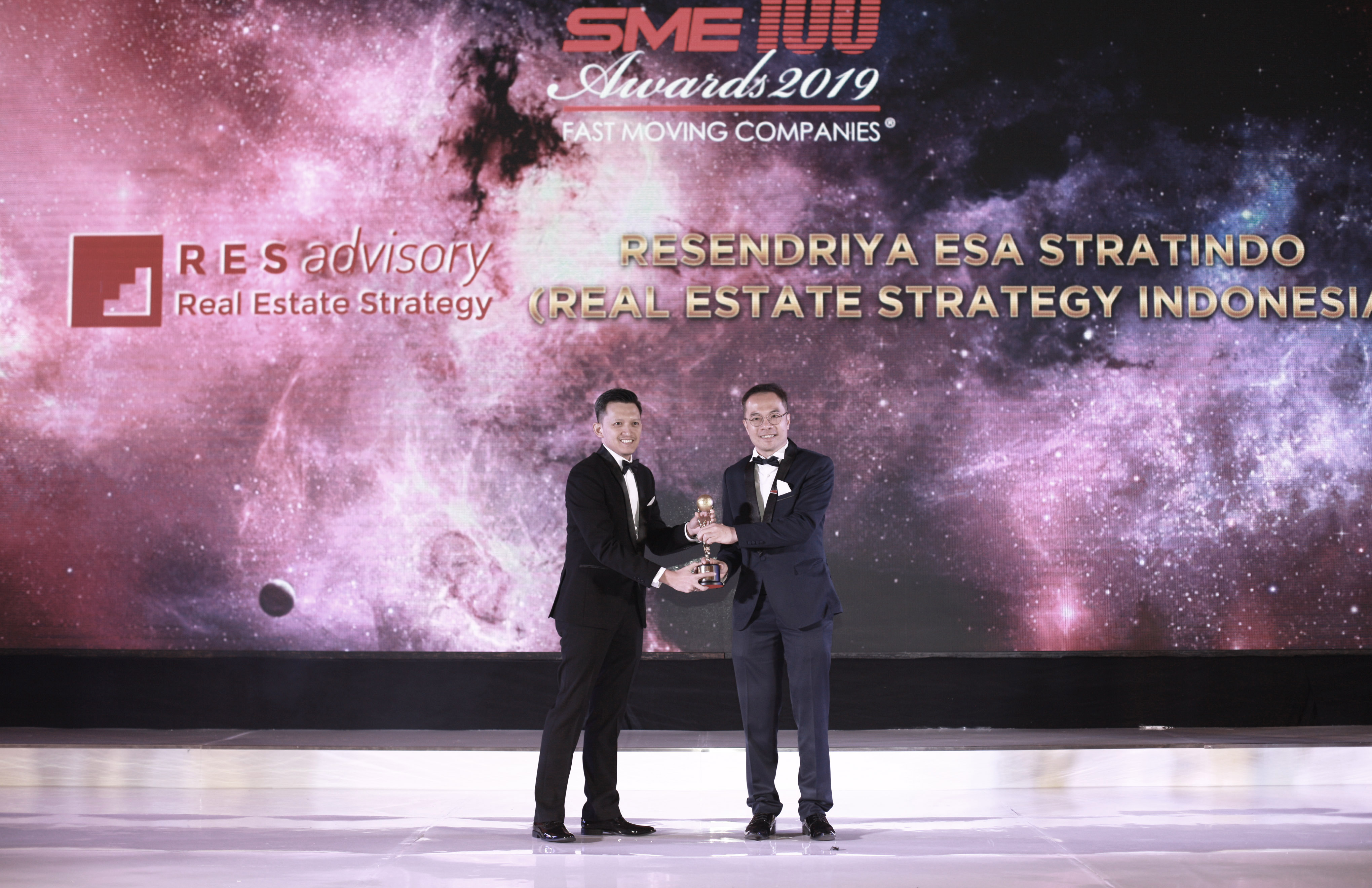 The SME100 Awards 2019
by: RES team
RES Advisory was one of the award recipients of SME100 Awards 2019 for Indonesia. The event was held in June 2019 at JW Marriott hotel, Jakarta.
It was an honour for us, and we were very happy to be able to represent the small-medium companies in Indonesia who are working really hard in achieving and maintaining their presence in their respective industries. Companies like us.
We understand that building a sustainable business can be very challenging. There are many shortcuts around us, being taken or offered. But we plan to be around for a long long time, so we have been very consistent in doing things the right way, providing our services with the best standard in the industry.
We thank SME100 for recognising this hard work and passion. Hopefully this will inspire many more SMEs in Indonesia to continue being passionate in what they do, and to never give up!
Below are the write up for RES:
REAL ESTATE STRATEGY INDONESIA
PT Resendriya Esa Stratindo (RES Advisory) is a small consulting firm, focusing on research-based services for property developers, investors, and asset owners. Despite being a boutique firm for years, RES has successfully maintained its position in the competition alongside much bigger international property consultants. This was done by continuously delivering results that exceed expectations, with fresh analyses, and in international quality standards.
PT Resendriya Esa Stratindo started operations in 2010. It was founded by Regawa Paramasiddi, who had previously worked for Procon Indah and Cushman & Wakefield, both in their respective Research & Advisory department. At that time, Regawa was already working as a Development Director to a local resort developer company. With his experience working for both consulting company and developer company, Regawa has realized there was something missing in the industry. Most reports from property consultants in the country are difficult to implement, as they do not match the market conditions, or the developer's expectation. He experienced this himself, from both sides. The opportunity to provide a fresh approach for the property market of Indonesia is too good to be passed.
RES advisory started by providing research-based consulting works that helps early planning stages of a property development. The business initially targeted small and personal property businesses, by making simple yet decisive market study or feasibility study reports. By 2011 it has already serviced State-Owned Enterprises (SOEs). The services grew further to Highest & Best Use studies and later, customized studies were introduced to help clients better by adjusting to their actual needs. By 2013, RES has already done Market Repositioning Study that would help an existing property project to identify its problems provided inputs to perform better. In that year also, RES completed a JV Analysis study, which helped Joint Venture negotiation between a 200-hectare land owner and a large national-scale developer. By the following few years, RES were present in project tenders and competing with international property consultants such as Cushman & Wakefield, Colliers, Jones Lang LaSalle, and many more.
THE CUSTOM-FIT APPROACH
The custom-fit approach and high sensitivity to future market changes has been the main strength of RES' team of analysts that were trained and groomed personally by Regawa using his alternative methods and unique thinking. The spirit of the company was based on the belief that a good advisory work speaks well beyond numbers. The name Resendriya itself is a sanskrit word meaning sharp intuition. In only a few years, RES have received consulting contracts of projects that had been previously assigned to the top multinational brand companies, as some unsatisfied clients started to look for better market insights and more workable project recommendations that can actually be implemented on the ground. RES can achieve this by having its own design team that can easily identify design challenges, market trends, and other issues that could not be addressed before by a property market advisory firm.
Some of the most challenging projects that RES have taken part in are those that requires knowledge across industries. Luckily for RES, past experiences and willingness to listen, learn, and understand the problems that the ­­clients are facing, all have helped them complete projects like these. For example, RES had previously helped an international fast-food chain in discovering property challenges of an existing franchisee, and few years later helped the chain with new market penetration strategy for 3 prominent cities in Indonesia, as they bring in new franchisees. This service was way beyond the commonly found property consulting work. RES have also helped a state-owned company in the pursuit of legal action against a BOT (build-operate-transfer) partner that has not delivered the project as agreed. For this work, RES identified the fair business reacquisition value for the current state of the asset at that time, along with the repositioning strategy for the future.
WHAT'S AHEAD
Another key aspect is in the network of experts. RES has worked regularly with partner firms from various industry backgrounds, from architects, master-planners, corporate finance firms, marketing consultants, property agents, and market researchers. By collaborating with some of the ­­­best firms in the business, RES has been able to maintain the high quality of work for clients.
With the prolonged property downturn cycle since 2016, RES Advisory are currently facing tougher challenges as larger property consulting companies have slowly went into price wars. However, RES Advisory will hopefully benefit from its consistent quality and continuous collaboration with top firms.
The SME100 Award is the perfect start for the company to get recognition and exposure to expand its clienteles and maybe even its services. For the SME100 Award, RES Advisory represents a good example of a small local Indonesian company with endless efforts to provide high quality services that successfully compete with the same level as larger multinational companies.